Dead Cells Final DLC - The Loop
Play Sound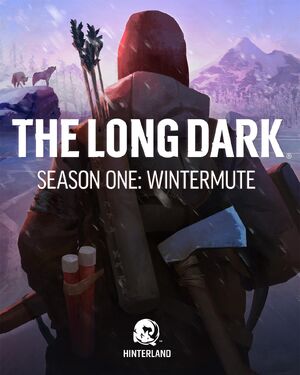 The story of Wintermute launched August 1, 2017 with two episodes: Do Not Go Gentle, and Luminance Fugue. The story episode centres around the relationship between Dr. Astrid Greenwood and a bush pilot named Will Mackenzie, whom she hires to fly her to a remote location in the Canadian wilderness. After a mysterious geomagnetic disaster, Astrid and Will become separated. Experience the story from their perspectives and face the struggle to survive head on.
Episodic structure
The Long Dark's episodic structure borrows from TV to deliver a well-paced narrative experience that is advanced by player action in the world. Similar to open-world games like Red Dead Redemption and Fallout 3, The Long Dark offers both a large open-world simulation space that encourages free-form gameplay and a story-driven mission structure that draws players deeper into the fiction of the game world. This structure means that, whether you have 20 minutes or 2 hours to play, you can jump in and make meaningful progress towards an in-game goal. Each episode takes an average of 3-5 hours to complete.
Episode 1
Do Not Go Gentle launched August 1, 2017.
In this episode, Will Mackenzie's plane has crashed due to a mysterious geomagnetic event. He and fellow traveller Astrid Greenwood are now separated. Will does his best to survive in the wilderness while trying to find shelter. His journey takes him to the small town of Milton, where he starts to understand the extent of the quiet apocalypse that sent his world crashing down.
Episode 2
Luminance Fugue launched August 1, 2017.
Will Mackenzie searches for Astrid, but he begins to realize the depth of the situation he has found himself in. During his journey, he meets other survivors and must make difficult, yet critical decisions--determining just how far he is willing to go to survive.
Episode 3
Crossroads Elegy launched on October 22, 2019.
This episode follows Astrid as she faces the blizzards of Pleasant Valley. Searching for Mackenzie, her skills as a doctor come to bear as she encounters other survivors. As the mystery seems to draw them to Perseverance Mills, how far is she willing to go to find him?
Episode 4
Episode 4, entitled "Fury, then Silence" has been released on 6th October, 2021. It features Will and an introduction to a new region, Blackrock, which is dominated by the Blackrock Prison complex.
Episode 5
Hinterland has plans to release Episode 5 to complete the Wintermute series.
Difficulty
There are three gameplay options for the level of difficulty.
Green Survivor
For new players most interested in pensive exploration and storytelling.
Most survival elements are tuned to be very forgiving.
Wildlife may attack, but are less aggressive.
Capable Survivor
For players with some experience, and those looking for a balance between exploration and survival.
Wildlife is sparse, but can seek you out.
Survival elements are challenging but resources are plentiful.
Hardened Survivor
For veteran players looking for a punishing survival experience.
Hostile wildlife is common, and will hunt you down.
All survival elements are tuned to be particularly challenging.
Media
Images
Videos
References