Dead Cells Final DLC - The Loop
Play Sound
A region is a large, explorable outdoor area that encompasses many discoverable locations.
Overview
[
]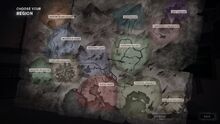 All regions are located on Great Bear Island in northern Canada. Each of the regions connects to at least one other region, either directly or by a smaller transition zone.
You can have an overview of connections between regions on your right.
Note: Bleak Inlet features a unique access configuration. There are two connections to other regions, but the connection with The Ravine is initially inaccessible from the lower elevation area accessed by the connection with Forlorn Muskeg. A mountaineering rope may be deployed from the top of a cliff on the higher-elevation side to make both entrances accessible from either side.
Selection
[
]
Survival mode
[
]
In most difficulty levels of Survival mode, the player may select any region as the starting point or may choose to start in a random region.
If the Interloper experience is selected, then the starting region will be randomly chosen from more challenging maps. In Interloper, the player will not spawn in Mountain Town, Mystery Lake, or Coastal Highway, and the number of possible spawn locations within each possible region is limited.
Story mode
[
]
In the Story mode, the starting location is always the same and the player is restricted in what regions they can visit.
Episode 1 takes place entirely in Mountain Town. Once the main quest is completed, player acquires means to proceed away from this region, which triggers the beginning of Episode 2.
Region list
[
]
There are currently 12 regions in The Long Dark, which are:
Transition zones
[
]
In addition to these regions, there are also several transition zones, which are smaller explorable areas serving as links between some regions. Some transition zones may also contain discoverable locations. The transition zones include:
Directly connected regions
[
]
Some regions are connected directly, without any transition zone between them. These connections are:
Gallery
[
]