"

A cup of coffee.

In-game description

"
A Cup of coffee is a drink item in The Long Dark.
Drinking coffee will improve Hunger and Thirst and provide a bonus to Fatigue. A bit of Fatigue will be restored instantly, and Fatigue will be reduced at a slower rate for several hours. When consumed while still hot, it will also provide a bonus to Warmth. Cups of coffee can be found within microwaves.
While the tin of coffee deteriorates over time, cups of coffee do not. So if you have a place to store them, it's wise to make cups of coffee before the tin's condition drops below 50%.
Crafting
Edit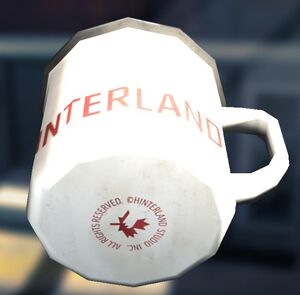 The cup features the name logo of Hinterland Games, the developers of The Long Dark. The base of the cup bears a copyright mark for Hinterland Studios Inc.