GTA: The Criminal Enterprises - The Loop
Play Sound
Cooking is a survival skill that is used to cook some food and drinks. Cooking offers several benefits, including increasing the condition of raw food and reducing the risk of food poisoning. There are many different types of food in The Long Dark, each providing a certain number of calories. Cooking also has a larger variety of training options compared to any other skill, due to the number of foods types that can be cooked.
How to cook
[
]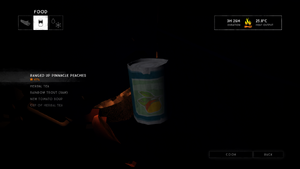 Cooking is one of the easiest skills to train in The Long Dark, as players can increase their skill by cooking any food or drink item. Players also encounter a variety of food items that can be cooked throughout a play-through, providing many opportunities to gain cooking experience.
Players can cook food and drinks on any fire. There is no difference between cooking over a campfire and contained fire.
Players select the food item or cooking tool (i.e., a recycled can or cooking pot) from the radial menu or inventory and place it on or next to the fire in a designated cooking space. When using a cooking tool, the player can "use" the placed can or pot to select which food or drink to cook.
Equipment
[
]
Players need a fire before they can start cooking, and certain pieces of equipment can be used to assist with cooking.
Image
Equipment
Benefit
Fire

Used to cook any food or drink
Includes player-made campfires and contained fires made in existing firepits.

Recycled Can
Cooking Pot

Used to cook drinks and canned foods
Can melt and boil up to 2.0 liters of water at a time
Cooking times reduced by 20% vs. recycled can
Food takes 20% longer to burn vs. recycled can
Types of food
[
]
Meat
[
]
Players can obtain raw meat from harvesting rabbits, wolves, deer, bears, and moose. See the Energy density column below to maximize use of your weight.
Fish
[
]
Players can obtain raw fish from fishing smallmouth bass, coho salmon, lake whitefish, and rainbow trout. Cooking fish also produces a small amount of Lantern Fuel. See the Energy density column below to maximize use of your weight.
Canned
[
]
Players can obtain canned goods by scavenging throughout their playthrough. Canned goods requires a can opener, hunting knife, or hatchet to be opened to retain the full contents. If the player does not have any of these tools, they can also smash the can open, but this results in losing some of the contents to spillage if the player's cooking level is less than 3. The cooking time for canned goods is 15 minutes when cooked directly on a fire. Canned items not listed here cannot be heated up (i.e., tin of sardines, can of dog food, condensed milk.)
Image
Name
Energy density
Notes
Pinnacle Peaches
900 kcal/kg

(409.09 kcal/lb)

Consuming pinnacle peaches while hot also provides a bonus to the player.
Tomato Soup
1200 kcal/kg

(545.45 kcal/lb)

Consuming tomato soup while hot also provides a bonus to the player.
Pork and Beans
2400 kcal/kg

(1090.91 kcal/lb)

Consuming pork and beans while hot also provides a bonus to the player.
Drinks
[
]
Players can obtain hot drinks from brewing coffee, herbal tea, prepared reishi mushrooms, prepared rose hips or prepared birch bark with 0.25 liters of potable water. Drinks cooked in a recycled can directly on a fire take 12 minutes to cook; reheating takes 33% less time (8 minutes in a recycled can); they may also be cooked in a cooking pot. Each drink weighs 0.1 kg and has 100 kcal and, when consumed hot, provides a warming up bonus to the player.
Removing from fire
[
]
If meat is removed from the fire or stove before cooking is complete, the food is still considered raw, and it will require the full cooking time if cooking is resumed at a later point. A fire that briefly goes out pauses the cooking process; if the fire is quickly relit, cooking will resume without an additional penalty.
Food left on an active fire after it is finished cooking will burn after a set amount of time. Burnt food items are unusable and will disappear when picked up. Recycled cans and cooking pots will degrade if food is burnt. Food cooked in a cooking pot will take 20% longer to burn compared to food cooked directly by the fire or in a recycled can.
Skill levels
[
]
Players can increase their cooking skill by cooking any food or drink item. This excludes melting and boiling water, or warming up food that has already been cooked. Warming up canned food, however, does increase cooking skill.
Skill increase occurs per item cooked -- regardless of its weight or for how long it cooked. (E.g., cooking a 100 mg morsel of Rabbit in a Cooking Pot for 3 minutes results in the same increase as cooking 1 kg of moose meat on a bare stone for 1.5 hours!)
A limited increase can be obtained from the research book Wilderness Kitchen, which allows players to increase their cooking by 10 skill points with 5 hours of research.
Once players have reached a new skill level, they unlock the effects described in the table below.
Level
Skill points
Effects
1
0
2
25

+10% calories from any cooked food item

3
75

+15% calories from any cooked food item
No calorie loss when smashing open cans
Cooking times reduced by 10%

4
150

+20% calories from any cooked food item
No calorie loss when smashing open cans
Cooking times reduced by 20%
Ready times increased by 20%

5
350

+25% calories from any cooked food item
No calorie loss when smashing open cans
Cooking times reduced by 30%
Ready times increased by 20%
Never get Parasites or Food poisoning from cooked food. (Retroactive, so meat cooked before level 5 carries no risk. Includes artificial foods.)