Cave is the only cave with an interior in Desolation Point.
The Cave is one of two in the region, but is the only cave that has a loading screen.
Within the Cave, especially on harder difficulties, a wolf may be found lurking around. The wolf is usually accompanied by one or two deer carcasses, and sometimes a hunting rifle may be found with it's owner. Varying food stuffs may be found here, and inside the corpse's backpack as well.
The wolf tends to lurk near the large center portion of Cave, but can wander about through the tunnels. So it is recommended to enter with a weapon readied.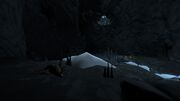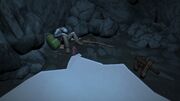 Community content is available under
CC-BY-SA
unless otherwise noted.