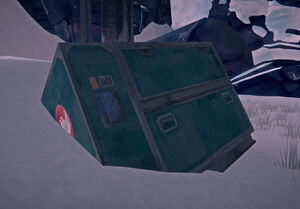 Cargo Containers are locked bins containing specific loot, and are found at various locations around Timberwolf Mountain.
Like most of the landmarks on the mountain, the containers originated from the aircraft which crashed into the Summit.
The containers are locked and can be opened using a Hacksaw, which can occasionally be found next to the container along with a Frozen corpse. If the tool used is in poor condition, there is a chance that the tool will break down and, in this case, there is another roll for determining if the cargo door will become broken too, and never be able to be opened.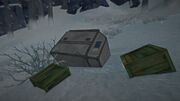 Each door contains specific types of loot, which may vary in number. Opened cargo containers can hold 30kg of items in each door.
Not all cargo containers spawn in Interloper, and those that do will contain far less loot.
Cargo containers can be found at the following locations:
Community content is available under
CC-BY-SA
unless otherwise noted.