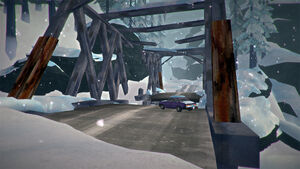 See also Broken Bridge (disambiguation).
Broken Bridge is one of two bridges in Desolation Point.
Overview
Edit
Broken Bridge, as its name implies, is destroyed and impassable. It serves as one of the ends of the region.
A frozen corpse may be found under the bridge, and a car on the bridge. Birch saplings and a small cave can be found nearby.